Meet Our Donors
Clif and Sheila Burdette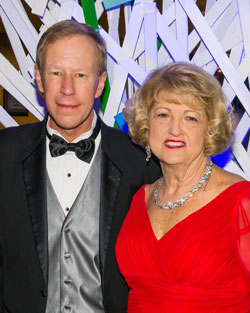 My name is Dr. Clif Burdette. My wife Sheila and I recently made the largest charitable gift we've ever made in our lives to Presence Covenant Medical Center.
I've served on the hospital board in various roles. Sheila was a nurse and worked there many years and later became a volunteer, and still is. One of my daughters worked in radiology and the cardiac cath lab, and another now serves on various volunteer committees there. And God knows we were patients as well! There was a time in my family's life when we were like "frequent flyers" at the hospital.
In addition to health care, there are facets of holistic care and compassion in a faith-based hospital you just don't see at a secular place. Something intangible. That's one thing I appreciate so much about Covenant. And it's a big part of why I wanted to give a significant gift to support their good work. Not only do they provide health care to those in need, but they reach out to the community to provide access to the support and services of many other organizations that also support the needs of so many people.
Presence Covenant has touched a lot of people in our lives. Sheila and I talked about it and decided we wanted to make a very significant bequest to Covenant. It's not an immediate gift. It will be dispersed over time, and the bulk of it will come when one or both of us pass away. We want to help people in our community—that's number one. And we want to help Covenant be as strong as possible to provide care and support to people here in many ways.
When I think about Covenant I think of their sincere love, care, and respect for all people. And I consider it an honor and a privilege to help support their good work.